Prodigo's modular technology solutions deliver real dollar savings by allowing the healthcare provider to visualize spend across the enterprise supply chain; leveraging purchasing power through improved purchase transparency, product standardization to increase contract utilization while delivering financial control and decision support tools for performance management.
Streamline the requisition workflow for requestors; driving contract compliant information to the point of requisition from a single source of contracted truth

Direct spend to preferred contracted vendors through a secure, one-stop, compliant environment which delivers a standard shopping experience across all vendor enriched catalog content

Drive accountability into each purchase decision; enforcing approval policies while eliminating discretionary purchasing options, driving requestors to preferred purchasing channels while also delivering real-time transparency and cost control to all purchasing activity occurring across the enterprise supply chain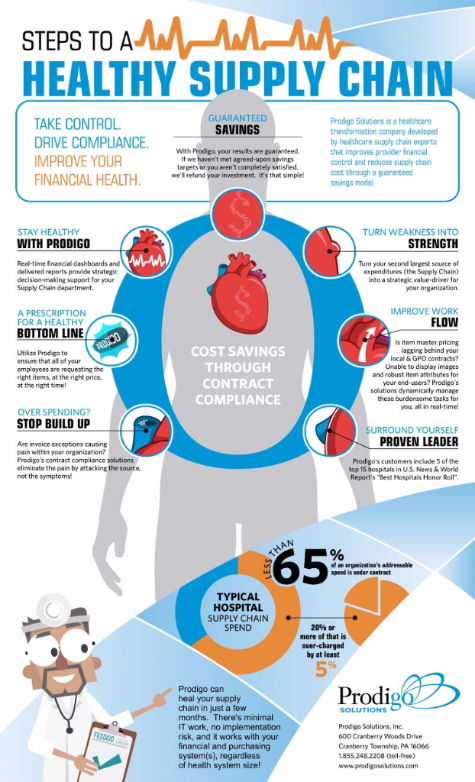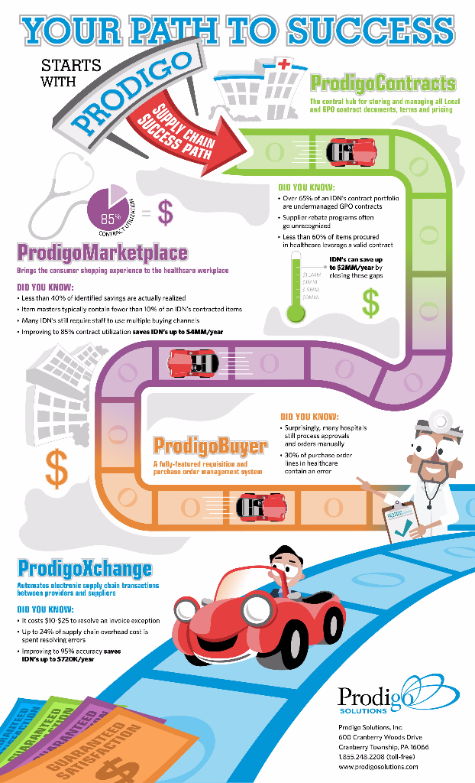 Prodigo is a solutions company whose primary goal is to help healthcare providers improve financial margins by driving compliance and automation in their supply chain. All of our products are designed and developed for healthcare by healthcare and the healthcare industry sets our strategic direction. We further set ourselves apart in the following ways:
We identify an ROI and guarantee it by putting our fees at risk in a pay for performance model.

Our customer base is comprised of healthcare providers of varying sizes and across a continuum of care, including many of the top US News & World Report "Honor Roll" hospitals.

We have successfully integrated with all of the major ERP systems used in healthcare.

We remain IT "lite" by enhancing, not replacing your existing ERP functionality.

Sophisticated technology enables visibility, decision making and control across all addressable spend categories

Key performance indicators presented "at the time of transaction"

Integrated library of Manufacturer enriched content connected dynamically

Real-time, actionable business intelligence, eliminates the dependency on manufacturers, GPOs and distributor data sources while empowering a deeper understanding of supply chain performance

Change management – Prodigo makes it easy for your users to make the right choices – right item, right vendor, right price

Engagement and results growth – Prodigo helps you influence each purchasing decision when it matters most – right at the point of consumption

Sustained savings – Prodigo helps you prioritize opportunities and measure successes to improve contract compliance