Gain the Advantage of a Best-in-Class Healthcare Supply Chain Solution
Prodigo's shared-service Affiliate Program is designed to deliver supply chain cost savings by providing healthcare supply chain practitioners with the tools they need to manage item and price data across the enterprise, improve supply chain user experience and direct Requestors to the right item, from the right vendor at the right price. As well, the Prodigo Procurement Platform improves patient safety by delivering accurate data to the point of service so that caregivers can accurately document the patient-care episode and supply chain can ensure that all products in the chain of custody are approved for use.
As a single, compliant purchasing channel, Prodigo delivers a directed-buying environment that eliminates maverick spend, forces utilization of existing contracts and drives the preferred behavior to optimize negotiated price incentives. Users spend less time on supply chain activities while supply chain managers have the control they need to influence preferred purchasing decisions. With Prodigo Supply Chain solutions, you get transparency. Through Prodigo's Affiliate Program you are empowered to reduce the total cost of care while also improving patient safety.
Standardize Your Entire Supply Chain Practice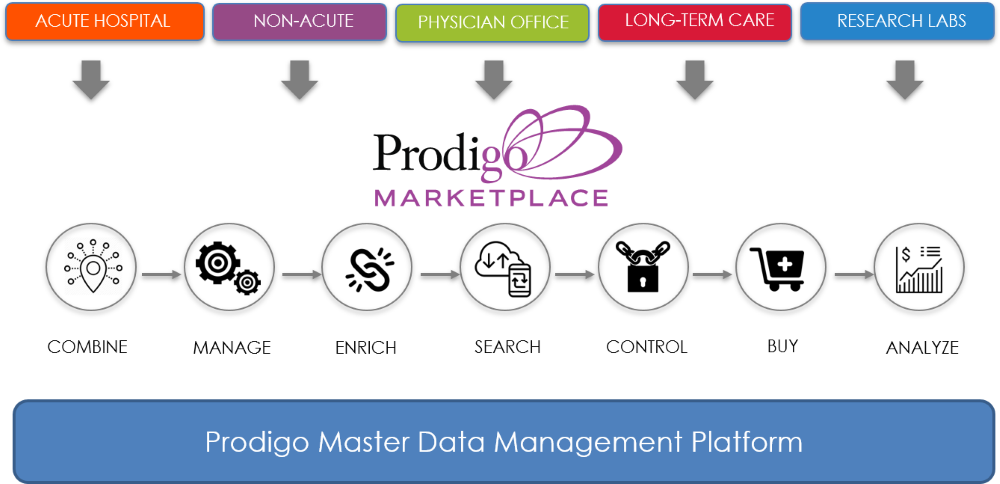 How the Program Works
COMBINE – Decentralized networks of buyers & purchasing channels including acute & non-acute locations, ancillary sites, affiliate programs & partners into one single purchasing channel across all entities within the organization

MANAGE– A fully integrated data management platform with all contracted content, managed vendor punch-out integration & automated vendor catalog self-management; with formularies to define specific filtered groups and access levels that make sense for them

ENRICH– Each member's data with healthcare-specific content enrichment from the largest aggregated content set of medical device & item data [GTIN, GS1 attributes, UDI identifiers & production data points, UNSPSC classification, HCPCS coding, supporting documents]; as well as image syndication with a focus on high-resolution, rich, interactive imagery

SEARCH – Through a single, compliant purchasing channel with supply chain-controlled content across all categories of spend [clinical & non-clinical commodities, purchased services, capital items]

CONTROL – Search results with a weighted search engine that ranks results according to supply chain's strategic goals & business rules; standardizing the supply chain practice and leveraging intelligent search algorithms to direct users to preferred choices that align with supply chain cost-saving initiatives

BUY – Through one purchasing channel with a user friendly & intuitive interface that guides users through the entire process for all goods, services & equipment they need to purchase

ANALYZE – With robust analytics dashboard with prescriptive reporting & spend analysis, by identifying non-compliant behavior & enabling corrective actions while enforcing contract commitments to optimize price tier performance.

The Power of Working Together
Our shared-member model will enable all organizations to achieve the benefits of systemness while remaining independent. Our affiliate program offers advantages that make it a desirable arrangement for all affiliate members. When you can successfully think and act as a group, the power is in your hands!
Lower cost of Entry

Single requisition channel for all Member purchasing activity; giving Supply Chain control and visibility of organizational spend

All GPO contracts managed in the system; improving GPO contract compliance to increase savings, admin fee returns and rebates

Members can load and manage their own local contracts; reducing item master administration and employee stress

Standardize products and suppliers; improving cost savings through Formulary Management

Member-specific login credentials and filtered content

[Optional] separate integrations with each Member's ERP

Learn More!
Contact a member of our strategic partner engagement team to learn more: